Dibblebee Show 43 ft DJs from Mars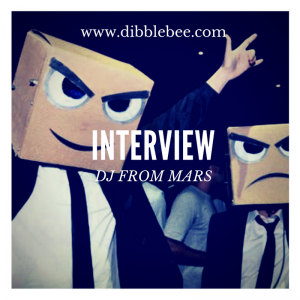 The Dibblebee show 43 ft DJs from Mars was recorded live in the studio in Sherbrooke, Quebec Canada in October 2014. We were proud to have this show aired on many internet and FM radio stations around the world. It was heard on Sherbrooke's CJMQ 88.9 FM the Qube , Canada's hot internet dance station called XLTRAX  and many other radio stations around the world. It is now available to everyone right here on Dibblebee's website. This means that you can listen to the show on demand as well as the many other radio shows now archived.
Dibblebee had the honor to have DJs from Mars on the show.  They are an Italian DJ and production team, composed of Max Aqualuce, Luca Ventafunk. They talk  to us about being on the Top DJ list that year. They also spoke about the single called "Welcome to the Dark Side"  They have great skill at producing mash-ups of popular songs. If you do not know DJS from Mars, be sure to listen to their interview with Dibblebee, the music track, visit their website and social media links.
Here is the website by DJs from Mars https://www.djsfrommars.com/
Follow them on Twitter https://twitter.com/djsfrommars
Show number 43 Tracklist (please note this list may be incomplete and not necessarily in order)
DANK – "Renegade" – Ultra Music
Jetpack- Back Back
ARIAS & GREG CERRONE – "FOOT STEPS"
ROBBIE RIVERA & JUS JACK – THAT SOUND REBOOT – JUICY MUSIC
DJs From Mars Guest interview Track with David Puentez Welcome to the dark side
PINK PANDA – "NO BUDDY TO LOVE"
KRONIC & KRUNK! – "HEY HO"
AIDEN JUDE – "TONIGHT"
THE BLOODY BEETROOTS FT DROP THE LIME – "KEEP ON DANCING"
Hyenas Bro Vs Yaya DJ – "Drop The Bass"
PETER MONK FEAT SANDY REED – ONE MORE NIGHT
HASHTAG – CASH SPLASH
CASTYEL – INVINCIBLE
Listen to the show and enjoy! You can contact us if you would like to have a show like this playing on your radio station. If you are an artist and have some music to be heard by our audience, please get in touch!
Podcast: Play in new window | Download
Subscribe: RSS