Day 2 CDJSHOW 2017
For CDJSHOW 2017 Day 2, it was back to the Hilton in downtown Toronto. It was no warmer than the day before in Toronto, but the lineup for the day's seminars looked promising. There were three seminar rooms and all the conferences looked highly interesting.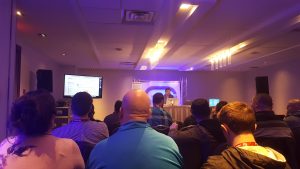 I arrived at 11:30 am in time for Jordan St-Jacques' seminar entitled 'Marketing Automation Tools' This is kind of a no brainer to choose to attend for any DJ, since we all know how much social media is important to our business, but realize how much time it can consume to remain active on social media networks.  Jordan provided many valuable tools that could automate social media and therefore become more effective in posting and gaining additional followers. The first tool he demonstrated was www.socialchamp.io for automating social media posting. He highly recommended being on Instagram, but explained that their API was a little more difficult to integrate with social media posting automation sites, so he demonstrated another tool called www.grum.co that worked better with Instagram. It is always a challenge to write fresh content so the website www.gnow.it  was suggested to help with this. Another tool that stood out from the many tools shown was; www.scraperbeast.com  This toolis a great service to find emails related to your keywords. Scraperbeast is a great way to send emails B2B and B2C. There were four suggestions given to all DJs in order to make social media work for them;
Take plenty of pictures, post testimonials
Schedule posts a week in advance
Make sure to choose social websites that work best for you.
Automate as much as possible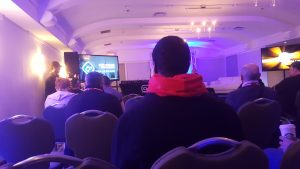 After this seminar was over it was over to seminar room 1 sponsored by Denon DJ where I was anxious to hear Singer, songwriter and female DJ Jes speak about singing while performing as a DJ. When I arrived 'CDJICONS hosted by Eddie Gordon' was running a bit late which was just fine because I got to catch the last part of Ben Liebrand's presentation. Ben Liebrand is a dance music DJ and has remixed many tracks. His radio show 'In the mix' was the first non-stop mixed show that aired on Dutch National Radio in 1983. Dutch DJs Armin van Buuren and Tiësto, have cited Ben Liebrand as their main reason for entering the music business. I do radio show myself in Sherbrooke, Quebec called 'The top 10 Dance Songs of the Week' and an Electro Live Mix so I was inspired to hear this very experienced DJ speak.
Next up was female DJ, Jes. I already knew of Jes , since her radio show 'Unleash the Beat' plays on my radio station www.xltrax.com As she was being interviewed by Eddie Gordon, it was very interesting to hear her speak about her beginnings in the music industry and how she virtually came from nothing to now being a financially independent female music artist. Today from her studio and label in California, she looks out for music talent and signs upcoming stars.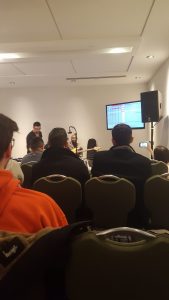 At 2:30 pm it was time to move on to seminar room 3 for DJ Shine's workshop called 'Exploring Creative Performance Possibilities with Ableton Live' DJ Shine is a certified Ableton trainer and has worked with big name artists like Nelly Furtado, Frank Ocean and Drake. I believe Ableton Live is one of the best music production applications out there. I have had the opportunity to play around with it quite a bit, but I still have a huge interest in learning more about how it works. DJ Shine basically demonstrated how to create a song on the fly with various instruments and sounds. Shine even had his friend come up and jam a live bass session, which he also used in the track he created.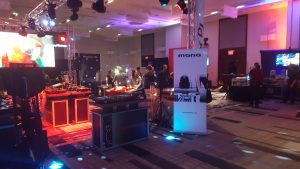 I failed to notice that the exhibit hall only opened Sunday March 12 and I had already booked my flight out of Toronto back to Montreal for Sunday 12pm. Luckily Full Guest Pass Holders had an exhibit pass preview from 4-5 pm. Although there were only a few vendors inside the exhibit hall, when you walked through the doors, your attention was immediately drawn towards Pioneer's exhibit. There was a nice big screen, plenty of gear and a wide variety of DJ controllers. I went straight over to look for the Pioneer DDJ-RZX. The DJ controller offers three 7-inch touch screens, each of which allow you to preview and monitor video and image files, trigger beat/release FX, Touch FX that allow use of X/Y controls to change level/depth of the effect and to see enlarged track waveforms / metadata. The DDJ-RZX includes a license for Rekordbox DJ, Video, and DVS, it is selling for an estimated $3,999 CAD. Electro Voice, Denon, Behringer, GoPro by Hero, Stanton, Audio-technica and many more were among the companies in the exhibit hall. Nick Fiorucci and ZipDJ, www.zipdj.com my favorite DJ POOL service were also among the exhibits present. I took the opportunity to say hi to Nick, since we broadcast his show weekly on XLTRAX.com
All in all CDJSHOW 2017 was a very good and fun experience for me. It provided the grand opportunity to meet and learn from DJ and music industry peers. As a DJ it is so important to examine market trends, to learn how we can improve our branding, gear and social media in order to be even better at what we do. Dibblebee has a weekly radio show called 'The top 10 Dance Songs of the Week' it plays on internet and FM stations all around the world. Contact him if you would like to book him for your next event.