CDJSHOW 2017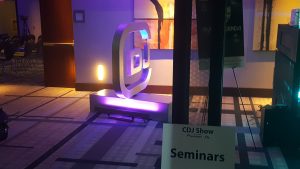 I had the opportunity to attend the CDJSHOW 2017 at the Hilton in downtown Toronto, March 10-12, 2017. Attending any trade show is always a chance to be inspired and network with people that are working in the same industry as you are. I decided on purchasing the full pass for the show and fly into Toronto from Montreal Trudeau Airport to attend the show. It was a very cold and windy weekend in Toronto, so it was a no brainer to stay warm and be inside one of the three conference rooms at the Hilton hotel to listen to some of the industries bright and experienced minds speak.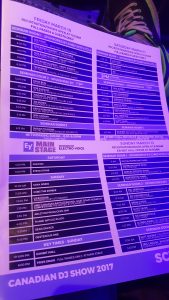 I looked over the schedule and decided on which seminars could help my DJ business and DJ hobby activities. I started off in seminar room #2 sponsored by CPDJA at 12 pm with the seminar entitled 'Mastering Your Craft as a DJ and Business Owner' by David Beal. David Beal presented himself and his 17 years in the DJ Industry and 31 years of being a DJ. David Beal is a skilled entertainer who can MC, Play games, DJ, plan events and even officiate wedding ceremonies. Beal provided some resources for your Mobile DJ Business such as the available DJ associations in Canada like the CDJA and CPDJA. He stressed the importance of having proper insurance and a valid music licence with Connect or being subscribed to a legal DJ pool. Some good reading material was suggested such as author Tom Haibeck who wrote 'The Wedding MC'  (see the amazon link below to purchase). He also stressed the importance of building social media as a DJ Business and to do as much networking through there as possible. Finally he provided some web sites where DJs can get some leads for wedding events. Here is a list of those sites; Eventective https://www.eventective.com  Wedding Wire  https://www.weddingwire.ca/ and Event Brite   https://www.eventbrite.ca/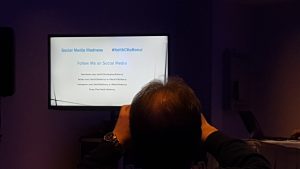 The next CDJSHOW 2017 seminar I attended on Friday was at 5pm entitled 'Social Media Marketing Experience' by Keith Korkoruz. This subject was highly interesting to me as I have done lots of digital marketing in social media. Keith stressed that social media is so much more than just a phonebook. A Consistent brand and being conversational on social media were some of the main keyword ideas. Korkoruz mentioned that the top 10 sites on the internet today are social media sites. The top social media sites on the internet today are; Facebook, YouTube, Messenger, Twitter, Instagram, Pinterest and Google+. Most people today are turning to social media as their main news source. They are spending on average 50 minutes a day checking their news feeds. Keith provided some numbers to get an idea of the scope of an audience that social media has reached. Facebook boasts 1.9 billion active daily users. 60% of the United States is on Facebook. 91% of millennials (age 15-34) are on Facebook. Twitter has 317 million monthly active users and Instagram has 500 million daily active users. Pinterest is especially interesting for visual telling us what people want and for sharing content of our own. Keith Korkoruz suggested picking three social media sites that we feel can help our business and to be the best we can at them. The key thing is to engage your clients, earn a customer and serve them.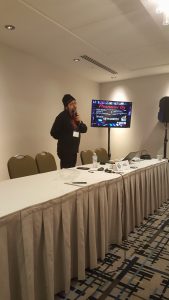 The last seminar of the day was 'Digital DJ 101 Presented by Pioneer DJ' spoken by Dikran Poladian. In this seminar, Dikran gave some very practical advice on DJ software and hardware. He compared Apple to Microsoft Windows. Of course as most tech nerds do, he suggested Windows was the way to go after weighing the pros and cons. He did however, mention that his hate for Apple came from a place of love. He discussed what was needed in a laptop to DJ. Dikran suggested staying away from AMD in laptops as they tend to have heating issues and to stick with at least an Intel i5 CPU, minimum 8 GB of RAM,
more if you do video and an SSD hard drive. He recommended to stay away from external hard drives and to get an internal drive with as much space as possible. If you used a USB key, in his opinion the brand Kingston and USB 3.0 was the way to go. Finally he compared DJ software, the principal ones being Tracktor, Serato, VirtualDJ and Pioneer Recordbox. He was generous enough to hand out Pioneer 8 GB USB snap on bracelets.
The first day was a success and I already wanted to get back to my hotel room. First, I had to figure out Toronto's underground PATH system. Even though I got lost, a friendly person or two was helpful to get me back on my destination and I was able to avoid the cold and make it back to the hotel anxious for Day 2.
Stay tuned for Part 2 CDJSHOW Day 2
Buy Tom Haibeck's book on Amazon.ca
The Wedding MC: A Complete Guide to Success for the Best Man or Event Host